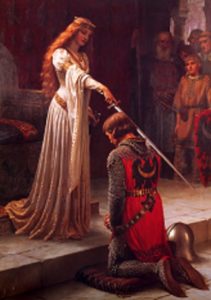 As many of us are painfully aware, there has been a lack of evangelization directed towards men. Men are not hearing what they need from the pulpit and there have been few resources to help in our faith journey. The good news is that this has been changing in recent times, The Order of Lepanto is one of the resources aiding in the shift along with many other fine Catholic men's blogs. But for many, the call to arms from the hierarchy of the Church was a missing piece of the puzzle.
Today, I am pleased to share that Bishop Thomas Olmsted of the Diocese of Phoenix has started putting that piece into place. This is an amazing letter which I implore all of you to read in its entirety. However, I would also like to present you with a few excerpts:
"Men, do not hesitate to engage in the battle that is raging around you, the battle that is wounding our children and families, the battle that is distorting the dignity of both women and men. This battle is often hidden, but the battle is real."
"One of the key reasons that the Church is faltering under the attacks of Satan is that many Catholic men have not been willing to "step into the breach" – to fill this gap that lies open and vulnerable to further attack"
This is call many men have been eagerly waiting for.
The Hard Part
The call of Bishop Olmstead is wonderful and timely. It fits what many us believe is the right course of action for re-invigorating Catholic men. But it requires action our part – if this call goes unheeded, it may be a long time until we hear it again. We need to organize local men's groups, like the Order of Lepanto and others, to help men in this quest.
I find the title, Into the Breach, most interesting since it is of medieval origin and has a direct tie in to the Order of Lepanto. During a battle, siege weapons were used to try and knock holes (breaches) in the protective wall surrounding the castle. If a breach were to occur, the defenders would run to that area and attempt to build a human wall to replace the protection of the missing stones. We find ourselves in a similar situation today: Secular culture has laid siege to the Christian way of life and has managed to blow huge holes in it. We now need men to pour into those breaches to provide cover for our families and our faith. Instead of standing up to arrows and swords, we must now stand up to embarrassment and possible ridicule. Although the risk is great, the rewards are greater.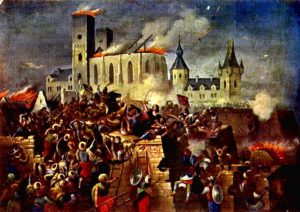 The priests and bishops need our help, it is time to rush to the wall and stand in the breach!
Facebook Comments