"Then he made the disciples get into the boat and precede him to the other side, while he dismissed the crowds. After doing so, he went up on the mountain by himself to pray. When it was evening he was there alone. Meanwhile the boat, already a few miles offshore, was being tossed about by the waves, for the wind was against it. During the fourth watch of the night, he came toward them, walking on the sea. When the disciples saw him walking on the sea they were terrified. "It is a ghost," they said, and they cried out in fear. At once [Jesus] spoke to them, "Take courage, it is I; do not be afraid." Peter said to him in reply, "Lord, if it is you, command me to come to you on the water." He said, "Come." Peter got out of the boat and began to walk on the water toward Jesus. But when he saw how [strong] the wind was he became frightened; and, beginning to sink, he cried out, "Lord, save me!" Immediately Jesus stretched out his hand and caught him, and said to him, "O you of little faith, why did you doubt?"  After they got into the boat, the wind died down. Those who were in the boat did him homage, saying, "Truly, you are the Son of God." – Matthew 14:22-32
Over the past weeks we have been assailed by news of cover-ups and misconduct by some in the episcopacy (cardinals and bishops) and priesthood that has spanned decades. These revelations have made many Catholics, lay and clerical alike, angry. You can certainly count me in that group as well. I had thought that with the Dallas Charter in 2002 we would be able to begin healing and put these problems behind us. Obviously I was mistaken. I have spent the past weeks thinking and praying about the current disclosures and one word keeps popping into my head – FEAR. I believe that the Holy Spirit is prompting me to write on this subject not only as response to the sexual problems in the Church, but also as it relates to other problems we face today.
So often we see that many of our priests are afraid to preach on moral teachings that are "out of fashion" with modern culture. They no longer talk about the sinfulness of homosexuality, sex outside of marriage, divorce and remarriage, and contraception preferring instead to talk about sins that are more in vogue with our modern culture. Speaking about abortion can be hit or miss along with the dangers of moral relativism. Why? The root is FEAR. Pastors are fearful of alienating parishioners with the truth of the Catholic faith. They are afraid that the donations will stop, that Mass attendance will dwindle, that they will be ridiculed for not "keeping up with the times," and a host of other reasons. This fear muddies the waters of the faith. The laity, not being properly catechized, then take up the task of living out their vocations, sometimes teaching children and/or adults without the grounding in the faith that they both need and deserve.
Sometimes it starts well before a man becomes a parish priest. We have learned that in some seminaries there are men who have been placed as "leaders" who never should have been put into positions of authority (much less a priestly vocation). We have seminarians who have been recruited because they were openly homosexual, while those who honor and respect traditional morality have been, at times, forced into silence. Why? Because they want to respond to God's call to the priesthood in the Catholic Church and they fear not being able to properly do so. They also likely fear, with good reason, that the hierarchy will not support them because they themselves are afraid (or in a few cases, complicit).
Bishops are not immune to this fear either. There appears to have been warnings about several of these incidents that went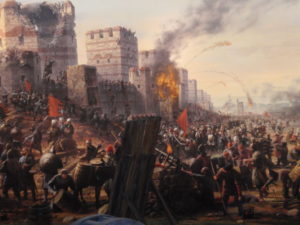 unheeded. Why? Again, I think it is due to FEAR. They are afraid that it will make them look bad (or in some instances, that they will be caught in their own issues). Perhaps they were afraid that if these things came to light it would undermine the good that came out of the Dallas Charter and the good things that the Catholic Church does in the world. I think some were afraid that the laity would not have their backs, so to speak, if improprieties were known. So some chose to ignore the warnings and now we must suffer a greater loss. Perhaps there was also a fear of being pushed outside of the sphere of academic and political insiders if they stood up for the moral teachings of the Church. I would remind our leaders that the faith is at home with neither political party and being true to the teachings of Jesus can be uncomfortable to talk about. Please resist the temptation to ignore certain principles in order to "get along" with either side of the political spectrum.
What about the laity? Many were afraid to report problems in the past – though I believe that this sentiment has largely disappeared. However, many are afraid to impart the true teachings of the faith in catechism classes or in the public sphere. The modern culture makes it difficult to evangelize. Talking about the moral stances of the Church can be intimidating enough, but when good people can be accused of hate and bigotry for believing in the Bible and in Jesus, the mission becomes even more difficult. But this is not simply a phenomenon of public evangelization, it regularly happens in catechism classes across all age groups too. There are hard teachings in the message of Jesus and some will have problems with these. If catechists do not believe that the parish priests and/or deacons are willing to stand up for them, they are less likely to stick out their necks to teach the fullness of truth.
Overcoming fear is a key attribute of the Order of Lepanto. The mission of our apostolate is to connect men with the martial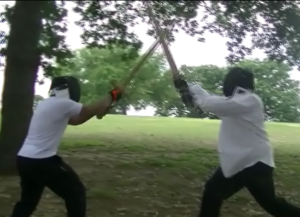 traditions of the historic Knightly Orders through the study and practice of swordsmanship while building character, learning more about our faith, and strengthening our values and bodies. Learning and practicing these self-defense martial arts appeals to a man's natural desire to protect while also engaging many of the seven heavenly virtues: prudence, justice, temperance, fortitude (courage), faith, hope, and charity (for more on this see our article: Virtues and Martial Arts). These cardinal and theological virtues are exactly what we need in order to counteract fear in a healthy way. By learning the style of martial arts used by European Knights of the late Medieval through mid-Renaissance periods, we exercise our fortitude (the ability to act in a stressful situation). Once we can act, we lean on the other virtues as well as the lessons and teachings of our faith to show us how to act.
The truth is that the moral teachings of God can be difficult for us to attain and we will all fall short in some way or another. But the good news (gospel message) is that Jesus, the second person of the Trinity, came down from heaven to suffer and die for us. He knows that this is impossible for us on our own, so He gives us grace from the sacraments, especially the Eucharist and Reconciliation. When we fall down, we ask forgiveness, get up, and try our best again. Sometimes the manner in which we fall means that we are no longer able to do what we used to do (i.e. removal from ministry), but with repentance comes the possibility of salvation. This knowledge helps us to have courage and hope in the difficult situations which will arise in our lives.
In Matthew's gospel quote above we see that fear is what makes Peter begin to sink in ocean. Similarly, fear is what capsizes us in the presentation of the gospel as well as living out its calling. The less we are afraid, the more confidence and courage we have, the more closely we will be able to live out the Gospel message in our lives. As Pope Saint John Paul II so famously said, "Be not afraid."